Our traditional joinery skills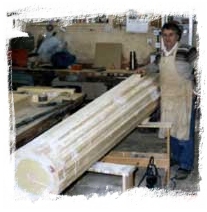 are sought after in the industry. With the skill and experience of our carpentry shop staff we have been able to undertake many complex joinery projects with confidence; a position many builders would be proud of.
Our in-house team of carpenters, joiners, cabinet makers and spray finishers can provide custom built-in furniture, paneling, timber ceilings, bar refurbishments and hardwood flooring.
We can supply and install a
wide range of custom hardwood doors. We design and build custom furniture items. Whether it is a fitted wardrobe, a table, a custom built kitchen, a TV console or a simple shelving system, JC Aldridge always delivers.
Our carpenters are highly experienced in the application of urethane coatings and caulking techniques.
We are experienced in designing and installing wood decking including treated imported timbers. We build hardwood decks to last and take great care to construct in such a way that joins and fixing points are protected from the elements.
Ask us a question
Are you still unsure about what you may require for your DIY needs? We would love to be of assistance, so if you have time just pop into the shop and discuss what you have in mind, or simply feel free to call us on 01453 810360, or email us. We look forward to hearing from you.
Shop Address: Market Place, Berkeley, Gloucestershire, GL13 9BB